December 16, 2017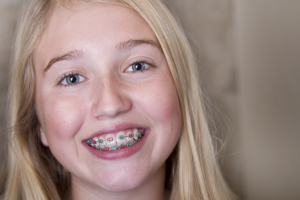 After a recent visit to your family dentist in Arlington, did they recommend that your child gets braces to correct their bite and alignment issues? Although you know that it will be beneficial to their oral health and development, you still have many questions about the treatment prior to making your final decision. To ensure that you make the best choice for your child, there are several things you should consider prior to committing to them.

Are Braces Necessary?
Often, it is believed that braces only offer cosmetic benefits, but this is not true. Correctly aligned teeth reduce the potential for dental problems in the future. Misaligned teeth are more difficult to clean, increasing the risk for tooth decay and gum disease. Not to mention, your child is more likely to suffer from a dental emergency as protruding and rotated teeth take the brunt of the force if there is trauma to the face.
If they have bite issues, like one that is open, it can cause problems with their speech and development. The sooner the issue is corrected, the better, which is why it is recommended that children have their first orthodontic consultation around the age of 7. With quick intervention, it will reduce the treatment time by correcting complications while they are still minor.
What are My Options?
Now, there are many different types of braces that can be used to move the teeth into their correct positions, such as traditional metal ones or clear aligner. When choosing the type that will meet your child's needs and preferences, there are several things to keep in mind, such as:
Cost: Your insurance may cover a portion of the treatment, so it is best to pick an option that will accommodate your budget to help pay for the out-of-pocket costs. Often, traditional braces tend to be more affordable; however, new advancements have made alternative options close to the same price.
Maintenance: No matter the type of braces you choose, they do add to your child's oral hygiene routine. If they do not have the best brushing and flossing habits, wires and brackets may not be the right option. Instead, you may want to consider one that has easier care, like Invisalign in Arlington.
Time: No one wants to spend years wearing braces, especially children. Consider the duration of the treatment time for each option. If time is an issue, 6 Month Smiles can offer the results your child needs in less than a year.
Alternative Options: While metal braces are the most widely used orthodontic system for children, it is not the only option. Explore all treatments, like Invisalign or 6 Month Smiles, prior to committing to one.
Invest in Your Child's Dental Health
If your dentist has recommended braces for your child, it is best not to delay the process. Invest in their future with a healthy, beautiful smile.
About Dr. Prachi D. Shah
Dr. Prachi D. Shah has provided outstanding dental care since 2007. With family services, she offers the care needed to promote healthy, beautiful smiles. If your child needs braces, contact South Arlington Dental Care today to schedule their consultation.
Comments Off

on Tips from Your Family Dentist in Arlington when Considering Braces
No Comments
No comments yet.
RSS feed for comments on this post.
Sorry, the comment form is closed at this time.