Meet Our Arlington Dentist
Prachi D. Shah, DDS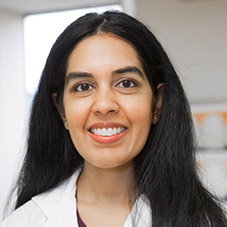 Since 2007, Dr. Shah has offered outstanding dental care focused on prevention and maintaining healthy smiles for life. She enjoys working with the friendly, knowledgeable team at South Arlington Dental Care and joined our practice in 2014. Dr. Shah is a native of Chicago, IL, but grew up in Washington State. She completed her undergraduate studies with a Bachelor of Science in Psychology at Loyola University of Chicago in 2002. Dr. Shah went on to earn her Doctor of Dental Surgery from New York University College of Dentistry and completed her general practice residency at Hackensack University Medical Center in New Jersey.
Well respected by her peers, Dr. Shah has enjoyed serving dental patients across the US in New York, New Mexico, California, and now Texas. Her goal is to create personalized dental care to restore patients to their optimal dental and overall health. Dedicated to lifelong learning, Dr. Shah has completed post-graduate training in pediatric dentistry and orthodontics, as well as continuing education in numerous dental specialties including TMJ and dental sleep medicine. She is hoping to help children and adults who suffer from sleep apnea, sleep-related breathing disorders, and snoring. She maintains professional membership in numerous dentistry organizations including the American Dental Association, Texas Dental Association, Fort Worth Dental Society, Arlington Study Club, and American Academy of Pediatric Dentistry. Dr. Shah holds certifications in nitrous oxide and Level 1 oral sedation.
Dr. Shah considers Vancouver, WA her hometown, but is proud to have lived in every US time zone. She is happily married to her husband and has two sons. When she has the opportunity, Dr. Shah loves to travel. She enjoys hiking, spending time with family and friends, trying new restaurants, and doing yoga.
More to Explore