August 7, 2018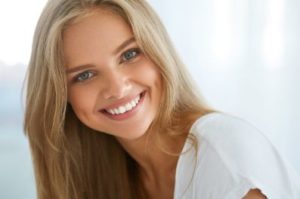 There's no denying that everyone loves a great smile. In fact, studies have shown that smiling makes you feel happier and is more pleasurable to your brain than eating chocolate. It also makes you look younger, thinner, more intelligent and more likable! But what about the millions of Americans who don't feel confident about the way their smile looks? It's hard to flash your pearly-whites if you don't like the way they look. Fortunately, cosmetic dentistry can transform your smile and give you the self-confidence to show it off as well. Keep reading to learn what 3 of the most common cosmetic procedures can do for you!
Teeth Whitening
Coffee, tea, red wine and tobacco are just a few of the habits that can stain your teeth and add years to your appearance. Whitening is a great way to erase any discoloration and give your smile a whole new look.
In addition, whitening gives you a lot of "bang for your buck," because it has such a big impact for a relatively small investment of time and money. With professional treatments, you can get up to 10 shades difference – safely and effectively.
Here are your two main whitening options:
In-office – This option is great for anyone who wants their results right away. Your appointment takes about an hour and you'll leave with your final result.
Take-home – This is a great choice for people who don't mind getting their result more gradually. You simply put professional-strength whitening gel into custom-made trays and wear them each day for 1-2 weeks until you achieve the shade you want.
Invisalign
Up until about 20 years ago, the only option people had for straightening their teeth was wearing bulky, uncomfortable wires and brackets. Then Invisalign came along!
This alternative to braces involves wearing a set of clear, plastic trays called aligners for two weeks at a time before getting a new set. Each pair of aligners creates small movements in the teeth until they're moved into their final positions.
In addition to being invisible, Invisalign has other advantages as well. Patients remove their trays before meals and again before brushing and flossing, so they don't have to give up any foods or struggle to keep their teeth and gums clean. Treatment time is often shorter as well!
Veneers
Veneers are strong, wafer-thin, "shells" that are adhered to the front of the teeth, giving them a whole new appearance. They can be used for a variety of imperfections, including:
Chips and cracks
Severe stains that don't respond to whitening treatments
Small or misshapen teeth
Minor gaps or crowding
These 3 cosmetic procedures are so popular because they're effective. In fact, they're often used for actors and other public figures to give them their beautiful smiles.
But the good news is that they're available to everyone!
About the Author
Dr. Prachi Shah is a general, restorative and cosmetic dentist who gets immense satisfaction from helping her patients feel great about their smiles. If you'd like to know more about how cosmetic dentistry can help you, she can be reached via her website or at (817) 860-2222.
Comments Off

on How Can These 3 Popular Cosmetic Dentistry Procedures Benefit You?
No Comments
No comments yet.
RSS feed for comments on this post.
Sorry, the comment form is closed at this time.