July 31, 2018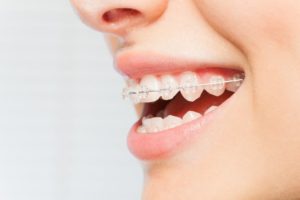 The world of dentistry is ever-evolving and changing, which means that patients have more options than in times past for correcting bite issues. If you're dealing with crowding, gaps, crookedness or misalignment, then you have more than just the traditional braces option to correct your smile. One of the newer methods available is Six Months Smiles, which offers some attractive benefits. As you read on, we compare the two procedures, so you can get an idea of which is better for you.
Traditional Braces – How Do They Work?
The most common form of correcting bite issues is traditional braces. This method relies on metal brackets being affixed to the teeth and connected with an archwire that's adjusted throughout the treatment process to move the teeth to the correct position.
The main reason that this method has stood the test of time is that it is very efficient and can correct even the most complex bite issues. Like everything, it has its less desirable traits, which include:
Lengthy Treatment Process – If you're fitted with traditional braces, you can expect to wear them for at least 24 months and depending on the condition of your bite, the time may be longer.
Appearance – Many people are hesitant to be fitted with metal braces because of the way they look. For some, it's embarrassing to have the bulky metal brackets protruding from their mouth.
Discomfort – There is a level of discomfort that has to be adjusted to when wearing metal braces. They are especially uncomfortable when they are first applied. Furthermore, the metal wire can irritate the soft tissue inside your mouth.
Oral Hygiene Adjustments – People who wear metal braces also have to make adjustments in their oral hygiene since they are permanently placed. For example, the normal method of flossing isn't possible and special brushing techniques are required.
Diet Changes – A final downside is that changes in diet must be made. Foods like popcorn, cheese and peanut butter can ruin braces, so the dentist will provide special instructions on what can be consumed during the treatment process.
A Look at Six Months Smiles
The Six Month Smiles method offers an alternative to traditional braces. It's a discreet treatment process that uses more aesthetically pleasing methods to straighten your teeth. Instead of relying on silver wires and brackets traditionally used for braces, Six Month Smiles uses clear brackets and tooth-colored wires.
Another key difference between Six Month Smiles and traditional braces is that the former only focuses on the front-facing teeth when making adjustments. In doing so, the treatment process is usually only six months.
Although this procedure offers ultra-convenience, it too has some factors that need to be considered:
Age Limitations – One of the challenges of Six Month Smiles is that they can only be used by patients 16 years or older. That's because by that age, all the permanent teeth have usually erupted.
Can't Correct Complex Bite Issues – The Six Month Smiles method is geared more toward cosmetic improvements. That means that complex bite issues can't be addressed because only the front teeth will be adjusted.
The Final Verdict
The ultimate decision about whether to go with traditional braces or Six Month Smiles will come down to your specific needs. When you visit your local dentist, he or she will examine you thoroughly and recommend which type of treatment will be best for you.
With expert care, you'll soon have the smile you've always wanted.
About the Author
Dr. Prachi D. Shah earned her dental degree from New York University College of Dentistry. Since then, she's remained dedicated to providing her patients with the absolute best in dental care. A lifelong learner, Dr. Shah pursues continuing education and maintains membership in several professional organizations. She puts smiles on faces with Six Month Smiles at South Arlington Dental Care and can be reached for more information through her website.
Comments Off

on Six Month Smiles vs. Braces – Your Arlington Dentist Compares the Two
No Comments
No comments yet.
RSS feed for comments on this post.
Sorry, the comment form is closed at this time.