July 6, 2020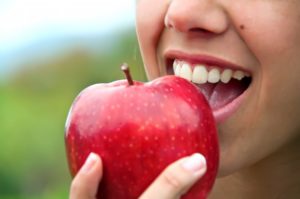 Even though your teeth are physically far away from most of your body, the health of your mouth is actually intertwined with your overall health. Failing to take good care of your teeth and gums could even weaken your immune system, which is the last thing you need during a global pandemic. In fact, you're going to want to strengthen your immune system as much as possible to increase your odds of beating the virus if you end up catching it. Fortunately, a dentist is here with some easy ways to boost your immune system while also improving your oral health.
How Poor Oral Health Affects Your Immune System
When you don't brush or floss as often as you should, food particles get left behind in your mouth. Bacteria then feast upon this debris. In the process, they produce an acidic waste product that erodes tooth enamel, causing cavities, and irritates the gum tissue, which can result in gum disease. Gum disease is a serious infection that requires the help of your dentist as well as your immune system.
How This Impacts the Rest of Your Body
An overabundance of bacteria in your mouth means that your immune system will do everything it can to protect you from the foreign invaders. With your immune response focused on one part of your body, it can't effectively protect other areas, increasing the risk that you'll become infected somewhere else. By maintaining excellent oral health, your immune system can concentrate on fighting infections in other areas of your body.
Ways to Strengthen Your Immune System
To make your immune system as strong as possible, it's important to live a generally healthy lifestyle. Here are some tips to remember when you're trying to boost your overall health:
Brush your teeth twice daily and floss once a day
Limit sugary and acidic foods and beverages like soda and citrus fruits
Do not smoke or chew tobacco products
Wash your hands frequently throughout the day
Eat plenty of leafy greens
Exercise regularly
Get enough sleep at night
Reduce stress with methods like yoga, meditation, or journaling
Limit your alcohol intake
Visit your dentist twice a year for routine checkups and cleanings
You can't have a strong immune system without strong oral health. By implementing these steps into your daily life, you can maintain a healthy lifestyle and minimized your chances of contracting illnesses in the future.
About the Author
Dr. Prachi Shah is a dentist in Arlington, TX who earned her Doctor of Dental Surgery degree from the New York University College of Dentistry. She has completed advanced post-graduate training in many areas of dentistry, including pediatrics, orthodontics, and sedation. She believes in the power of preventive dental care to maintain a healthy mouth and body. To learn more about how to keep your mouth and body strong, visit her website.
Comments Off

on How to Boost Your Immune System by Improving Your Oral Health
No Comments
No comments yet.
RSS feed for comments on this post.
Sorry, the comment form is closed at this time.