May 18, 2020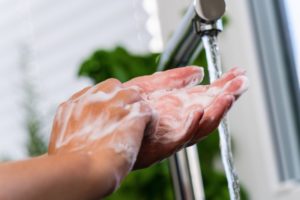 According to mothers around the world and the Centers for Disease Control and Prevention, regular handwashing is one of the best ways to protect yourself from germs. Excellent hand hygiene is even more important to keep yourself and others healthy during the coronavirus pandemic. However, washing your hands improperly won't keep you safe from getting sick! Read on to find out how your dental team is keeping their hands clean during COVID-19 and why your Arlington dentist won't be wearing any jewelry at your next appointment.
Hand Hygiene in COVID-19
The CDC reports that the coronavirus is primarily spread through infected respiratory droplets that touch a person's nose, mouth, or eyes. However, they can still be a threat even if they don't come in contact with someone. Studies show that COVID-19 can survive on numerous surfaces for hours or days at a time. Unknowingly touching a contaminated object will transmit the virus to your hands, which can then be quickly and easily spread to anything you touch, including your face.
That's why the CDC strongly recommends regularly washing your hands for 20-30 seconds throughout the day, especially after returning from a public area, sneezing, or coughing. Thoroughly cleaning your hands with soap and water clears away any dangerous particles.
Personal Hygiene Standards for Your Dental Team
Since a dental professional's hands come in such close proximity to their patients' mouths, hand hygiene has always been a top priority for your dental team. Even before COVID-19, they would routinely wash their hands, put on a new pair of gloves, treat their patient, throw out their gloves, and wash their hands again. However, recent studies are beginning to find that hand jewelry like rings, watches, and bracelets can shelter bacteria even after handwashing or using hand sanitizer. To ensure their hands are as clean as possible during the COVID-19 pandemic, your dental team will no longer be wearing any hand jewelry while providing dental care.
How to Keep Your Hands Clean If You Wear Jewelry
Does that mean you shouldn't wear your wedding ring or favorite watch during the pandemic? Ideally, you wouldn't wear any hand jewelry that could potentially harbor germs. However, there are ways to keep your hands clean without taking off your favorite items. When washing your hands, follow these five steps:
Remove your hand jewelry.
Wet your hands with clean, running water.
For 20-30 seconds, lather your hands with soap and clean every part of your hands.
Wash your jewelry with warm, soapy water.
Dry your hands and jewelry before putting your items back on.
Your Arlington dentist is taking every precaution to keep you safe while caring for your smile. If you need to visit them for dental care during the COVID-19 pandemic, you can feel confident that your health is in good, prepared, and clean hands.
About the Practice
Our friendly, experienced team at South Arlington Dental Care has always prioritized the health and safety of our patients and community. Typically, they like to demonstrate this by making each of their patients feel as relaxed and welcome as possible as soon as they step through the doors. However, in these unusual times, they're shifting their focus to enhancing their already ambitious infection control protocols. If you'd like to learn more about their Commitment to Safety, feel free to reach them via their website or at (817) 860-2222.
Comments Off

on Why Your Dental Team Isn't Wearing Hand Jewelry
No Comments
No comments yet.
RSS feed for comments on this post.
Sorry, the comment form is closed at this time.