June 30, 2018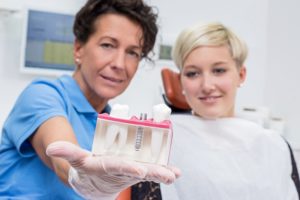 As dental implants become an ever more popular solution to replace any number of missing teeth, patients have a lot of questions. One of the most common questions dentists hear is, "What are implants made of?" There are a number of different materials available, and each material has its own unique advantages and disadvantages. The longest used and best-tested implant material is titanium, but many other options are now available. There are three main classes of materials used to create dental implants – metal, ceramic, and polymer. In this post, we'll discuss each of these common dental implant materials and which offers the best results.

Metals
There are three metals frequently recommended for implant creation – titanium, stainless steel, and gold. Titanium has been used for decades to repair broken bones, and it has proven successful for dental implants as well. Stainless steel is a bit more affordable, but results vary from patient to patient. Gold is the priciest and least tested metal implant material, but this may be a great option for patients who have allergies to traditional metals since gold does not typically affect these patients.
Ceramics
For those patients who have allergies or sensitivities to metal, we may recommend a ceramic implant post. In most cases, bioglass or zirconia are used. These materials have shown success in bonding with healthy tooth structures, and they are more biocompatible than metals, reducing the risk for implant rejection. Zirconia especially has proven very successful.
Polymers
Polymers like polyethylene and polyurethane are also used for implants posts in some cases. These have been used for the least amount of time, and further testing is needed to determine whether or not these are viable alternatives to the more often used metals and ceramics. If these materials can be proven effective, they may present a budget-friendly alternative to the currently used materials. Most dentists still recommend either titanium or zirconia.
Meet Dr. Shah
Trusted Pantego dentist, Prachi D. Shah, DDS, has advanced training and experience in successfully placing dental implants. Dr. Shah works with several implant manufacturers and labs to ensure patients receive the highest quality dental implants regardless of what material they choose. During your dental implant consultation, we'll discuss your options and help you find the best one to meet your needs. In most cases, we do recommend titanium or zirconia implants simply because these materials have the best success rates to date. If you're ready to get started with your dental implant tooth replacement plan, call Dr. Shah and the South Arlington Dental Care team to schedule your tooth replacement consultation in our state-of-the-art Pantego dentistry practice.
Comments Off

on Dental Implant Materials
No Comments
No comments yet.
RSS feed for comments on this post.
Sorry, the comment form is closed at this time.