September 6, 2021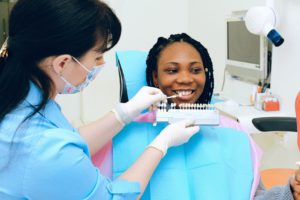 Over 500,000 people annually choose dental implants to replace their missing teeth because they can last for a lifetime. They provide a nearly perfect replica of your real teeth to improve your oral health and quality of life, but those aren't the only benefits. You'll never have to worry about tooth discoloration again because dental implants are stain-resistant, but that doesn't mean you can't tarnish your new smile. Here's how to ensure your investment stays bright and vibrant for decades.
Do Dental Implants Stain?
A dental implant is unlike any other treatment because it recreates both the root and crown. A post is surgically placed in the jawbone to replace the root. An abutment is attached to the post to connect your custom-made restoration that's made of ceramic porcelain, so it won't stain. Therefore, your smile should never discolor with the proper care.
Although you can enjoy a spectacular smile for years, little mistakes can damage the protective layer of the dental implant, which can leave them vulnerable to stain-causing factors. Thankfully, you can take several steps to safeguard your new pearly whites.
Caring for Dental Implants
Your dental implants can't decay, but they still require daily maintenance to keep them looking their best and your gums healthy. You care for them just like your natural teeth, but your dentist will recommend following a few tips:
Use the right dental products. Use a soft-bristled toothbrush and nonabrasive toothpaste to clean your dental implants. Hard bristles and other abrasive dental products can wear away the outer layer on the restoration and roughen the surface.
Commit to your oral hygiene: Your implant dentist recommends brushing at least twice daily and flossing nightly. Pay careful attention when cleaning around the implants. A waterflosser can be a great option for any hard-to-reach places.
Skip fluoride treatments: Fluoride treatments are great for protecting your enamel from tooth decay, but they can dull the appearance of your dental implants.
Don't smoke or use tobacco: Smoking can increase your risk of dental implant failure because it hinders your body's ability to heal and fight infections. Tar and nicotine can also make your smile turn yellow or brown.
Darkly pigmented foods and drinks. If the shiny layer of your dental implant is lost, darkly pigmented foods and drinks can stain them, like coffee, berries, or red wine.
Maintain a Beautiful, White Smile
In the rare event your dental implants discolor, don't worry. Your implant dentist can perform the necessary services to revitalize your magnificent smile. If you have any questions about caring for your dental implants, don't hesitate to contact your dentist for advice.
About Dr. Prachi D. Shah
Dr. Shah earned her dental degree from the New York University College of Dentistry before continuing her training in various specialties, like pediatric dentistry, orthodontics, dental sedation, and dental implants. If you're ready to replace your missing teeth, contact our office today to see if you're a candidate for dental implants.
Comments Off

on Invest in a Stain-Resistant Smile
No Comments
No comments yet.
RSS feed for comments on this post.
Sorry, the comment form is closed at this time.