January 23, 2023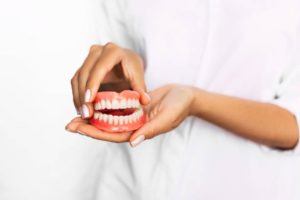 Dentures are one of the most common and useful solutions for patients with missing teeth. However, there are those out there who believe that wearing a full denture means they're exempt from routine dental care—but this could not be further from the truth! Here are four reasons why visiting the dentist is more important than ever before if you wear dentures.
Reason #1: You'll Maintain Optimal Oral Health
Tooth loss is a serious problem; not only does it vastly inhibit your ability to talk and eat, but it can also lead to additional missing teeth and a slew of other oral health issues. Dentures benefit your oral health by replacing those lost pearly whites; however, just because your teeth are being replaced does not mean that oral hygiene becomes irrelevant. Plaque and tartar, which spell bad news for your natural teeth, can also accumulate on your dentures. Fortunately, visiting your dentist for preventive care will allow them to clear away those harmful, unpleasant particles, which in turn will keep your dentures and your mouth as sanitary and healthy as possible.
Reason #2: Oral Health Issues Can Be Easily Identified
Even if you're diligent about oral hygiene, you're still often unable to detect serious underlying problems on your own until they've worsened. However, visiting your dentist biannually allows them to ensure that there's nothing wrong with your teeth, gums, or dentures! Some issues they'll be on the lookout for include: signs of tooth damage and decay, gum infection, bruxism, oral cancer, and more. Identifying these problems early on makes treating them much more manageable.
Reason #3: Allows for Necessary Adjustments
As you age, the tissues in your mouth tend to change, but especially more so without the roots of your natural teeth. This can alter your bite pattern, and in turn, how your dentures fit inside of your mouth. And ill-fitting dentures aren't just uncomfortable—they can also cause a variety of other issues including mouth sores, TMJ disorders, gum disease, poor nutrition, and more. In fact, it's not uncommon for a full denture to need refitting every few months, which can conveniently line up with your biannual visits!
Reason #4: Helps Your Dentures Last
Above all else, seeing your dentist regularly after receiving dentures will ensure that they're capable of lasting for as long as possible. As soon as they become dirty, damaged, ill-fitting, or compromised in any other way, their lifespan can become significantly shortened. But if you properly care for your dentures in collaboration with your dentist, they should last for up to seven or so years!
In short, having dentures doesn't mean you're off the hook when it comes to seeking routine dental care. In fact, it becomes more important than ever before if you'd prefer your dentures to look and function correctly for the foreseeable future.
About the Author
Dr. Prachi D. Shah has proudly served patients and families in the South Arlington area for several years. Her practice is thrilled to offer a wide range of services including restorative treatments such as dentures. If you have any questions about dentures or would like to arrange a visit, you can contact Dr. Shah's practice online or over the phone for assistance: (817) 860-2222.
Comments Off

on Why You Should Still Visit Your Dentist If You Wear Dentures
No Comments
No comments yet.
RSS feed for comments on this post.
Sorry, the comment form is closed at this time.